3 reasons why Dott chooses electro cargo bikes
If it were up to Dott, we would be going from A to B in the inner city on e-scooters and e-bikes. It is a sustainable, efficient and cheap alternative to a car. Residents of Brussels, London, Paris, and Rome and 25 other cities are already convinced. To put the electric scooters in the right places, deliver charged batteries and transport repair materials, Dott was looking for a sustainable partner. With a mindset that is just as green, Dott quickly found DOCKR as their partner. We spoke to Clara, Central Operations Manager, about their reasons for choosing electric carrier bicycles.
Sustainability is in our DNA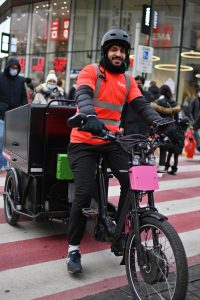 Clara explains that there are three clear reasons why they were looking for electric cargo bikes at Dott. The first, and for her the most important reason, is the sustainability aspect. "Our main proposition is sustainability. Every day we try to make this world a little greener. At Dott we breathe sustainability, and it is really in our DNA. We therefore believe that transport should also be sustainable. And why not go from A to B on an e-scooter or e-bike? We are currently operating in Brussels, London, Paris, and Rome and 25 other cities. We used to use petrol cars or vans to transport the electric scooters, deliver the batteries and the items needed for repairs. This of course went against our green DNA. We thus went in search of a sustainable alternative and soon found DOCKR's concept: electric cargo bikes on a lease contract. This company fits our DNA perfectly and makes it possible to transport a lot of things: a win-win situation!
"Using electric cargo bikes for our operations was a real no-brainer"
Always one step ahead with our new efficiency
The second reason for choosing electric cargo bikes is efficiency. "Before the cargo bikes, we only used vans for our logistics operations. Of course, this is convenient for longer distances, but this proved impossible in the busy inner cities of Brussels, Paris, and Rome. We were often stuck in traffic jams, and could not get close to the operation point due to bicycle and pedestrian areas, and parking was a crime. We lost a lot of time and were thus looking for a more efficient solution. The great thing about an electric scooter, and therefore also with a cargo bike, is that you can get anywhere in the busy city center. You can quickly pass traffic jams and car regulations do not hinder you. At Dott, we experienced for ourselves how nice it is to leave the car behind and opt for a sustainable and efficient alternative."
Expensive nightly costs are a thing of the past
Besides sustainability and efficiency, the cost is the third reason for choosing an electric carrier fleet. "When we only used vans, these shifts were often driven at night. During the day, it was too busy in the city centre to get from A to B for our operations. This cost us too much time. So, for that reason, our employees sometimes drove during evening hours. As you can imagine, paying for evening hours is more expensive than paying for daytime hours. It cost us a lot of extra money, which we preferred to invest in other ways. Nowadays, our employees no longer drive around in vans at night, but they simply ride around on electric carrier bikes during the day. This is way cheaper, more efficient, and it's of course way better for the well-being of our employees. The hourly rate at night was therefore also reduced to the hourly rate for the day. In this way, the use of electric carrier bicycles for our operations not only became more sustainable and efficient, but also significantly cheaper."
"Sustainable, efficient and cheaper: 3 reasons you can't ignore when considering the use of electric cargo bikes."
Park anywhere you like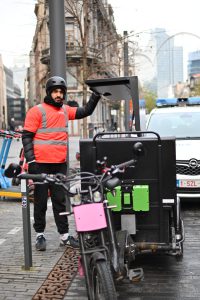 To stay in the realm of lower costs, Clara explains that parking and the associated costs are also a major motivation for using electric cargo bikes. "Parking with a car takes more time than parking with an electric carrier bike. And as we all know: time is money. There is often no space to park close to the electric scooter. Or you park the van far away from the electric scooter, which means you have to walk a long way. This, of course, is anything but efficient. The great thing about an electric cargo bike is that you can park it wherever you want. You can easily get close to the electric scooter and change the batteries on the spot. Really, electric cargo bikes are sustainable, efficient and cost-effective in many ways: I would recommend it to anyone."
Would you like more information about DOCKR and what your business can benefit from? Please fill in the form or call Bas Assink (+31 6 82061766), he is always ready to help!