Businesses in The Hague kick out the van 
Installers in The Hague are taking turns to try out an electric cargo bike over a period of a year, to see if it holds its own as an alternative to the van. Each business tests an Urban Arrow from DOCKR for free for four to six weeks. Then the bike is passed on to the next company. The name of the project, which was initiated by the municipality of The Hague and runs until June: Kick out the van!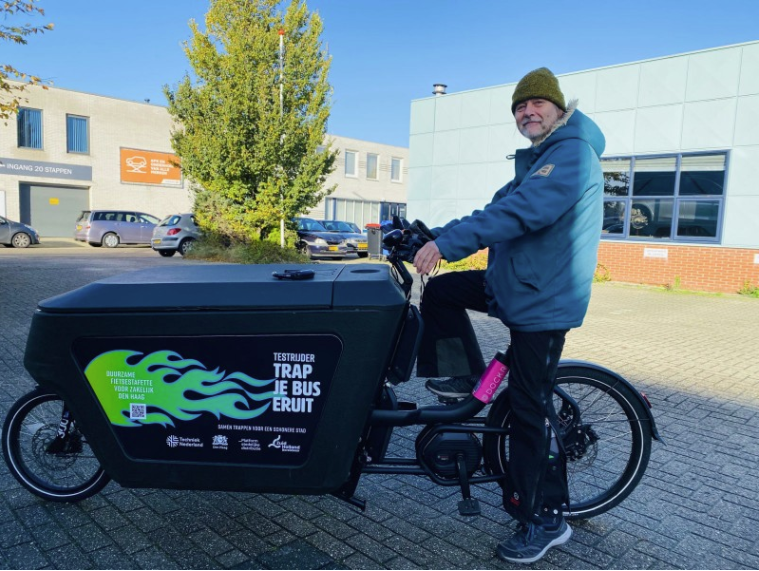 This last statement is slowly becoming a reality: businesses are noticing that an electric cargo bike can get around the city faster than a van. One of the installers saw that their mechanic using the bike was able to schedule at least one additional appointment in a working day. One even went a step further and did a comparative test. They used both a bike and a van for a day. The bike beat the van every time.
The Hague is one of the 27 municipalities that are implementing a zero-emission zone as of 2025.
Alternative to the van
"Kick out the van!" is intended to introduce you to one an alternative to the van, powered by a diesel-engine. The pilot run by the municipality of The Hague is planned until June and is mainly focused on the installation sector. Employees have traditionally been accustomed to using their own van. The van not only serves as a means of transport but often also doubles up as a mobile toolbox.
Better prepared
A cargo bike is convenient in the city, but you are able to transport less of course. This is also what the participating companies are realising. You need to prepare better. What tools will you take with you, have you thought of all the necessary parts before you go? Also, you cannot always take everything on a cargo bike. A complete HR boiler or heat pump is too big, for example.
The challenge, as one of the business owners points out: think about what you really need to take with you to a job. He was positive about the test. It's necessary to experiment to get used to new ways of working. If you are suddenly confronted with new rules and regulations, it can be a big shock. Now there is still time to explore new means of transport. If necessary, you can adapt the type of cargo bike you use to the items you need from day to day.
No hassle with parking
The participants of 'Kick out the van!', found many advantages: no hassle with parking, no expensive petrol. 'The price for parking in the city centre is astronomical. It's possible to plan ahead for this and use the cargo bike more often," says one of the installers.
Another company had planned to install a series of mechanical ventilation systems in The Hague city centre, during the test period with the Urban Arrow. The DOCKR cargo bike proved to be ideal. 'We are often in areas where we are only allowed to park for two hours, so this gives us much more flexibility. Also, one of our employees does not have a driver's license, so he can still go on his own.'
Not enough charging points for electric vans
Electric vehicles keep the air in the city clean. As a company in the zero-emission city centre, it is conceivable that you have a fleet of cargo bikes ready to transport for the 'last mile'. As well as a limited number of electric vans for fault technicians. For example, or as a spare vehicle for emergencies. Just switching from diesel to electric vans is not going to be a solution. Simply because there are not enough charging points, this business owner also thinks that: 'In 2026, the municipality wants the city centre to be a zero-emission zone. I doubt that there will be enough charging points by that time. That's going to be messy."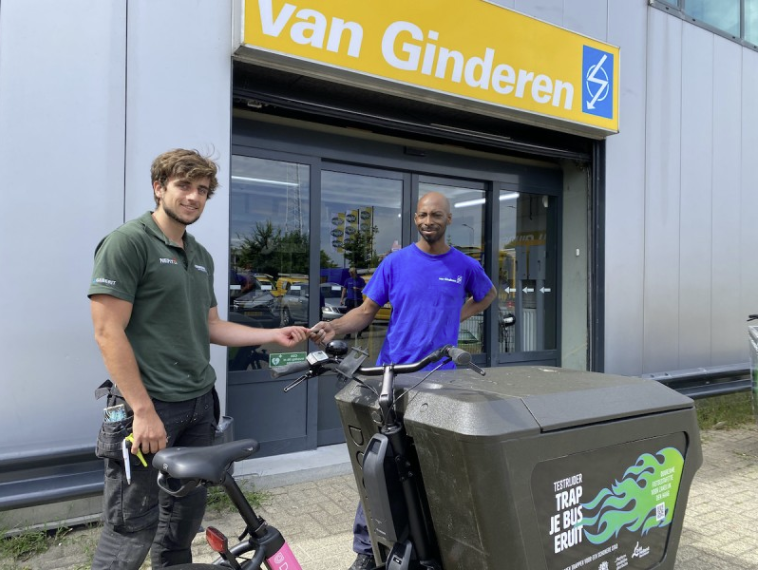 Cycling clears the head and keeps you moving
Cycling also offers up another favourable side effect: it keeps the employees fit. "They're revitalised," says one business owner. 'I know the feeling, cycling clears your head and is good for your fitness.' Moving actively through the city is a completely different experience to sitting still in a van, where the busy traffic also drains energy.
Another participant comments on the joy of cycling: 'I feel much fitter by cycling and things that you do in your van, like making calls or thinking about the business, this all goes away on the bike. Cycling is good for my body and my mind. Headphones in and off we go! Despite some of the drawbacks, I am eager to introduce this concept for the business. It just makes me happy!
Sources: Installatienet.nl, Platform urban distribution The Hague