Behind the scenes: DOCKR's expansion into Germany and Belgium
In the first in a four-part series of articles, we take a look behind the scenes at DOCKR.
On a month-by-month subscription, businesses can lease cargo bikes from DOCKR.
Based in the Netherlands and founded in 2018, DOCKR is in the process of scaling up
and is ready to expand into two new territories: Belgium and Germany. In this article,
we discover the story of that expansion through the eyes of DOCKR Expansion
Managers Nina van Spengen and Shahram Rezasade, and discuss facts on the ground,
market potential and cultural differences.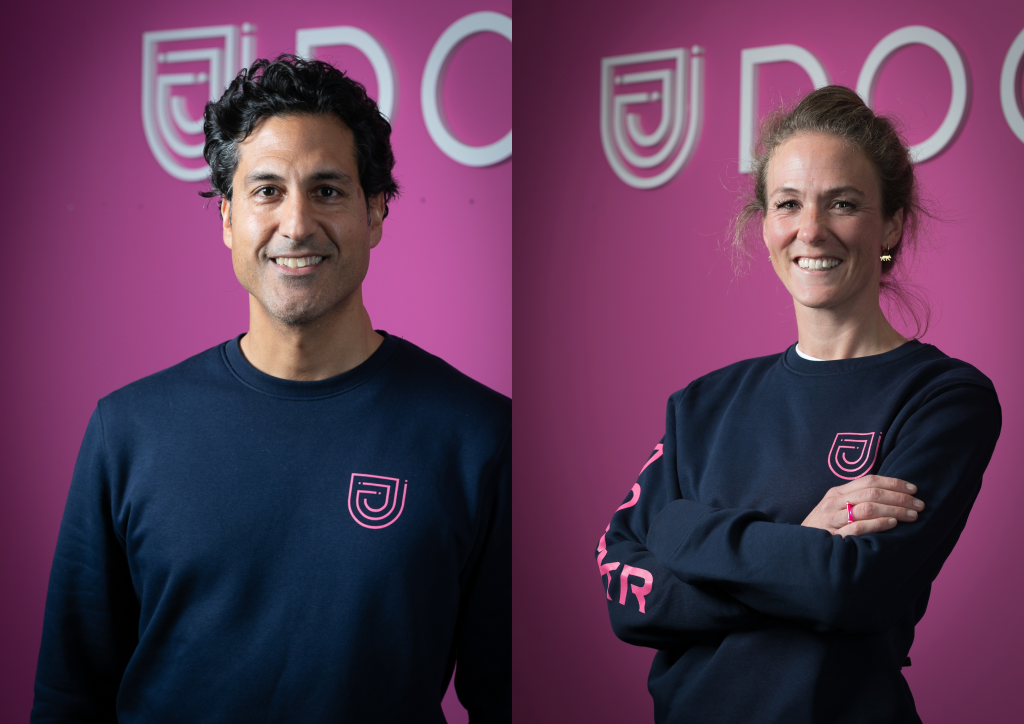 More and more these days, cities are striving towards liveability – a shorthand term for
making cities more enjoyable places to live. As part of these efforts the fossil-fuelled
vehicle is slowly but surely shut out of our cities. Where the fossil-fuel vehicle has
dominated, there now exists a mobility gap in which new, innovative ways of doing
business are thriving. One example of this is that more and more businesses and
organisations are dipping their toes into the world of cycle logistics.
On the face of it, it makes sense: if it's too difficult to serve a city centre using a fossil-
fuelled van or car, you look for an alternative. But alternatives have not always been
readily available. Infrastructure may also be absent, be that cycle lanes, secure and
convenient bike parking or charging points.

Even where all of these elements are present, getting rid of traditional, fossil-fuelled
vehicle fleets is a huge step for any organisation. It requires dramatic, root-and-branch
changes to business operations – not to mention buy-in from employees. And even
when adapting behaviour saves money in the long run, the initial investment can be a
painful one. Change, as they say, is difficult.
DOCKR's B2B customer-focused business model that aims to serve the needs of
businesses making this transition by lowering some of these barriers. A model that is
now on offer to German and Belgian entrepreneurs…

Belgium

Following on from the company's start-up success in the Netherlands, it seems only
logical that DOCKR should also set up shop in Belgium. After all, the country was most-
named as a top market in the 2021 European Cargo Bike Industry Survey by the 38
cargo bike manufacturers that participated. Germany came a close second – but more
on that later.

There are plenty of reasons the move makes sense: geographical proximity, language,
and not insignificantly, the cycling infrastructure – which although not identical – is
often similar. Nina van Spengen took up the role of Expansion Manager for Belgium in
August 2021. Originally from the Netherlands, Nina has a background in management in
the US, where she lived for 7 years before relocating to Leuven.

Van Spengen's ambitious plans involve DOCKR's Belgian unit scaling up during 2022:
"We definitely see a lot of potential. Next year for instance we do want to at least triple
in size". Initially, Brussels and Flanders are the focus areas. The hillier, less bike-
friendly, French-speaking Wallonia region may then follow. In 2022 DOCKR's Belgian
team will also grow accordingly.
But that's not the only factor driving the growth of cycle logistics in Belgium. It's hoped
that a partnership with Brussels-based hybrid consultancy-courier company URBIKE, as
well as several other cargo bike dealers, will also help Belgian businesses "They advise
businesses on how to take that first step. And if they aren't ready to buy, the reseller
refers them to DOCKR".

According to Van Spengen, working in Belgium also brings with it specific challenges.
"The cycling infrastructure here is less consistent than in the Netherlands. You don't
find bike lanes in every city. And what you find for instance in Brussels is that some
roads are in bad condition. There are a lot of old cobblestones. That means the bikes
take a lot more damage – which of course has implications for maintenance."
All problems which Van Spengen is confident DOCKR can overcome. Especially when
Belgium holds so much potential for the cargo bike: "In 3 years from now in Belgium,
many cars and vans will be banned from city centres" she explains. "This forces people
to look for alternatives – they'll have to. That is one of the reasons why DOCKR entered
the market now, to provide businesses with that alternative."

Germany

Over in Germany, Expansion Manager Shahram Rezasade, who also started in the role in
August 2021, is solving many of the same issues. Munich-based Rezasade has a
background in helping sustainable scale-ups expand into Germany, so this is familiar
ground for him: "I was looking for companies who actually contribute to the
sustainability goals of Germany," he says "when I came across DOCKR. They were
already thinking about coming to Germany, so it was good timing and a good match. We
quickly agreed on a business plan and a timeline. Once I got started, I quickly realised
that there was a lot of interest among some big players in Germany – mainly in grocery
delivery."

As of now, DOCKR is operating in ten cities in Germany, and Rezasade is focusing on
building up a team of 12 people in 2022, as well as growing the size of the fleet of cargo
bikes. "I'll be hiring for roles in sales, operations, customer success, finance, strategy
and marketing – everything we need to be able to service that fleet" he elaborates "and
at the same time I'll be expanding the service network too."
Similar to the Dutch and Belgian part of the business, servicing is carried out by
GetBikeService. "That's a very nice story actually – they're expanding to Germany as
well. They have an operation here in Munich and are building up their team. So, we are
growing together: two Dutch companies going to Germany, with each one enriching the
other; we are very, very happy with them."

There will also be a separate marketing team catering to German tastes. "Germany is a
car country so we are a little bit behind the Netherlands when it comes to bicycles and
cargo bikes." Despite this, Rezasade has a plan to convince them. "For lots of Germans,
whatever you want to do, you get in your car and you do it. That means our marketing
has to educate people about the benefits of cargo bikes. Not only the sustainability
benefits but also the practical ones; that you can do x, y and z on your cargo bike. Things
which you would normally do with a car or a van".
As with many businesses operating in the cycling industry, the supply chain is a big
issue for DOCKR. In this case, caused by growing pains which are inevitable for any
start-ups and scale-ups undergoing rapid expansions. Rezasade is addressing this too,
by setting up a warehouse to hold a buffer of stock for the German market. "This will
shorten delivery times for our customers, which will make them happy."

Rezasade also reflects on how the German market differs from that in the Netherlands,
and how offering agility to retailers can give them an edge on their competitors: "In
terms of the customer landscape, you have lots of small retail shops in the Netherlands,
who are very local but also deliver online. We don't have so much of that in Germany,
and where they are there, they are less online-savvy. We can help them to change that."
And because Germany is physically much larger than the Netherlands, consumers are
used to 2-3 day delivery times from national carriers. "That gives us the opportunity to
say to retailers 'hey, we can help you beat that and offer same-day delivery to your
customers'. And that's something we can really build on."