DOCKR and rental platform BIYU aim to declutter
How many devices do we really need? And is it necessary to buy a drill, a party boombox or a new pizza oven if we only end up using it once or twice? Furthermore, how much space and carbon footprint does all this 'stuff' add up to? With this in mind, two years ago, BIYU launched their rental platform: a Netflix for 'stuff'. BIYU delivers rental products and equipment to customers at home using bikes provided by DOCKR. A win-win for sustainability!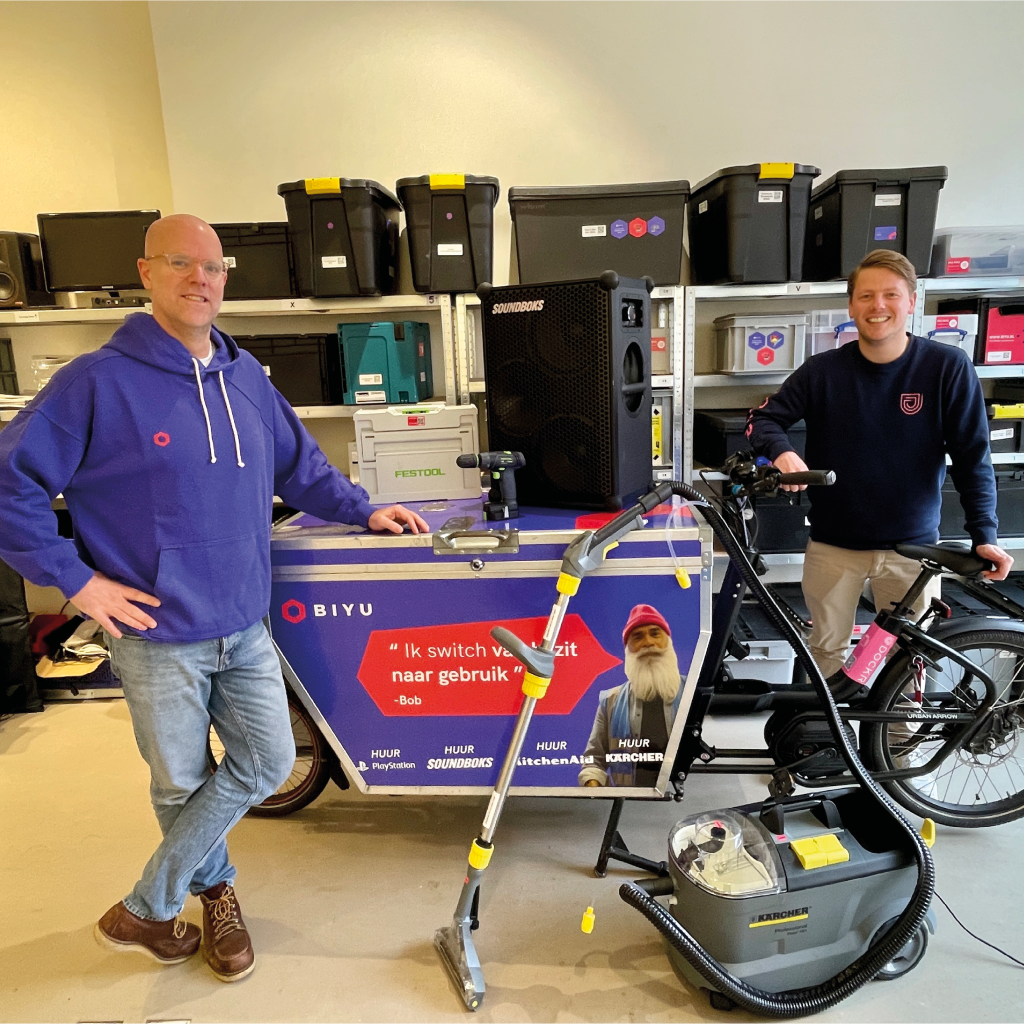 Firstly, the name. BIYU stands for 'Bob Is Your Uncle', an old English expression that basically means 'job done'! At BIYU, it is the trusted uncle who has everything and is always happy to let you borrow it. Founders Frans Biegstraaten and Martijn Tjho both returned from their travels abroad just a few years ago. They saw that, when they returned to Amsterdam, they both needed a lot of new tools and equipment.
"The longer you've been away, the less stuff you have," says Biegstraaten. "You have to replace everything that you left behind. But a lot of the tools you only need once, or very seldom. In Amsterdam, space comes at a premium, so using up all that storage space for stuff you barely use is a massive waste. We're also facing a serious climate problem. If anything, we need become more consume-less."
Preventing Waste
It is a serious issue for Biegstraaten. Tools that are sold and subsequently stored away in a closet for years to come, this is not really sustainable. When you rent something, you avoid wasting raw materials and energy. There is another problem with this, explains the BIYU founder. "If you are rarely going to use a certain product, you tend to look in the bargain section. I've been to every corner of China and seen a lot of those big factory halls on the inside. I know the effects it has on the environment when manufacturers like this produce a €9.99 drill. Not to mention, the issues surrounding child labour laws. Cheap production can only exist if practices outlawed by us a 100 years ago, are able to continue elsewhere.'
Products from well-known brands are more expensive. However, they are also produced using more sustainable methods, according to Biegstraaten and Tjho. They talked to manufacturers of equipment and electronics about their idea to rent out these items via a BIYU membership.
The best possible product
'That's the difference with peer-to-peer rental platforms: we are backed by A-brand manufacturers, so we can be sure that we deliver top-quality products. Every device that comes back after rental, is inspected and cleaned by us. Drills always include the necessary drill bits, speakers and microphones always come with an XLR cable. Our customer can rely on us to rent out the best possible product.'
You can become a subscriber, or rent items one at a time. Pickup is possible, but home delivery is also an option. DOCKR supplied two Urban Arrows XL and a Chariot 1700L from Cargo Cycling. Biegstraaten: 'DOCKR is very much aligned with our values and how we operate. Everyone sees us cycling through the city. This means that the cargo bikes are also part of our branding and marketing strategy.'
The best possible solution
BIYU sometimes has to transport very heavy rental products. It is rather demanding on the bikes. 'Thanks to the ongoing cooperation from DOCKR, we now know which configuration suits us best.' Bas Assink from DOCKR adds: 'It makes sense that in the beginning a young company like BIYU is searching for the best possible solution. Our flexible subscription model enables us to provide the best possible bikes. We offer a wide range, so we try out several options. DOCKR and BIYU worked well together in this process.'
There are more advantages to this partnership. 'BIYU wants sustainable transport in city centres, which is exactly what we make possible. We take care of everything, from preventive maintenance of the bikes to quick repairs when necessary. As a result, customers can focus entirely on their own core business, 'says Assink.
Expand into other cities
DOCKR also fits the growth ambitions: BIYU will soon be expanding to cities such as Utrecht, Haarlem, Eindhoven and Amersfoort. Biegstraaten: 'The focus has recently been to streamline our services and distribution at the Amsterdam hub. So, we know what works when it comes to other cities.'
Assink also sees BIYU's growth potential: 'With our national coverage, we have the capacity to grow and play our part in the further expansion of their operations. We have short lines of communication and we can scale up when needed. I believe in this business model and I also think it's a waste to forever keep buying everything myself.'