Cargo bike boxes out of jail: How DOCKR together with In-Made is working on training and reintegrating prisoners.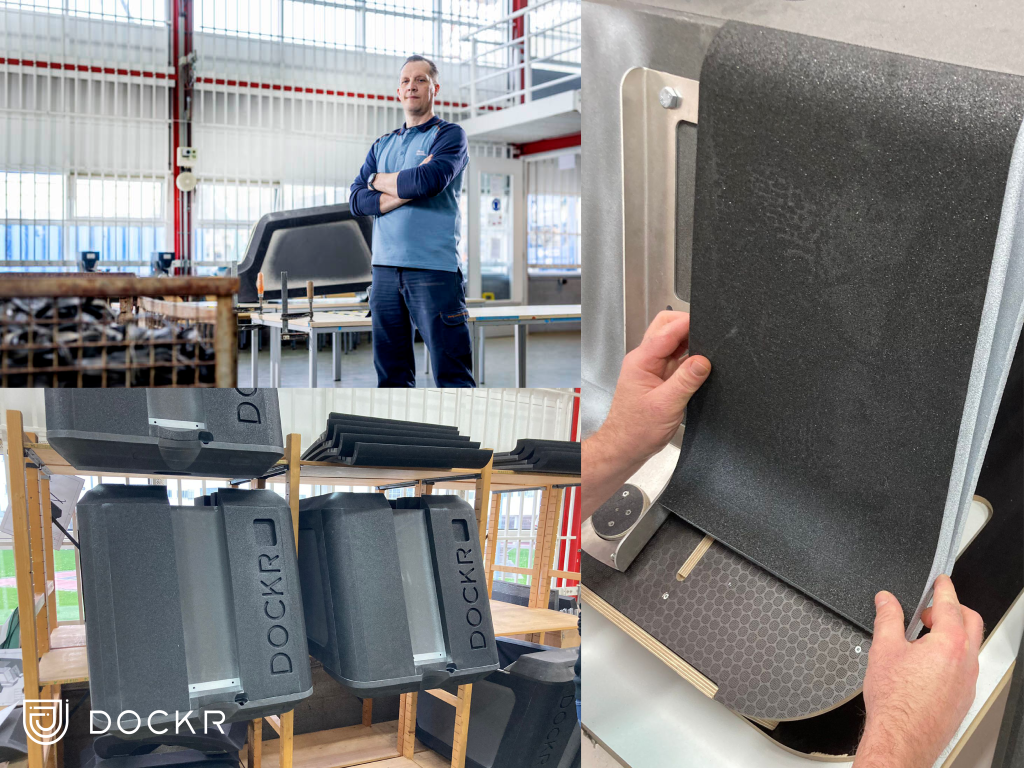 We at DOCKR have recently entered into a special partnership with In-Made, a national initiative of the Judicial Institutions Department (DJI). In this programme, prisoners gain work experience and employee skills, thus laying the foundations for reintegration into the labour market after their imprisonment. How awesome is that?
Since our launch in 2018, the demand for flexible contracts and electric cargo bikes has grown steadily. Making sure that our production can keep up with this demand can sometimes be a challenge. So we looked – like us – can have a social impact. "We brainstormed about a partner that could ensure stable, ongoing production, but that could also grow alongside our company. That's how we came in contact with the In-Made program," explains Kees Jan Blankestijn, Head of Product & Innovation at DOCKR.
Cargo bike bins in jail
In-Made is an initiative of the Dutch Prisons Department. Prisoners in the prisons in Nieuwegein and Sittard are currently working through the In-Made program on building and assembling the recognizable DOCKR plastic cargo bins. Not only do they gain technical and process experience, but they can also obtain the necessary certifications and industry-recognized qualifications. DOCKR supplies the parts and tools and provides training and instructions.
The idea behind In-Made is that prisoners do useful work that contributes to their reintegration, says Frank Becker of In-Made. "Working through In-Made contributes to humane detention, provides rhythm and structure and lays the foundation for a job after detention. We strive to make the work resemble how it takes place outside the walls at companies like DOCKR. Prisoners experience this as valuable, because they work on a complete, recognizable and high-quality product and because they are challenged to develop their employee skills."
Start inside, stay outside
After serving their sentences, ex-prisoners can reintegrate through the Ex-Made program and move on to a full-fledged job at DOCKR or another company, says Becker. "We call that 'starting inside to stay outside'. In the final phase of their incarceration, prisoners can also work outside prison with the skills they have acquired during detention by working on the DOCKR cargo bike.
For DOCKR there may be some production risks associated with this way of working, Kees Jan acknowledges: "But that is secondary to our ambition to make a positive contribution. And, as in many other sectors, it is currently a challenge to attract qualified staff. It would be great if we could employ people in our company as mechanics or drivers after they have served their sentence. Of course we can't give everyone a job, so the work experience and qualifications can be used widely, so that they can also use them elsewhere in the future."
Things can be done differently
"Showing that things can be done differently has been in our DNA since day one," Kees Jan says. "At DOCKR, we want to make the city center more livable with our sustainable cargo bikes. But we also want to make a social impact, and then we owe it to ourselves to prove this. With In-Made we offer a new future to people who might otherwise struggle on the labor market due to their criminal record. That philosophy fits in seamlessly with our vision."
"Just like us, DOCKR is committed to treating people and society with respect," adds Becker. "DOCKR's sustainable story is of course also appealing. It is not an anonymous client for prisoners, but a company that they are proud to tell their partner or family about." DOCKR and In-Made are currently working together in two prisons in Nieuwegein and Sittard, but the plan is to scale up when all processes are solid, concludes Blankestijn. "We are still in the honeymoon period, the goal is a long-term, stable collaboration between In-Made and DOCKR."