How Urban Arrow and DOCKR serve the business market.
An electric cargo bike subscription
The market for the business use of electric vehicles has been an absolute growth market in recent years. It's a market in which developments are happening rapidly, and within which we are seeing increasing demand for electric and smart vehicles. Diesel vans are being replaced with e-vans or e- cargo bikes. Because with electrically powered bikes you do not need to get stuck in traffic in town, or find yourself behind an (e-)van that is being unloaded. You simply go round it.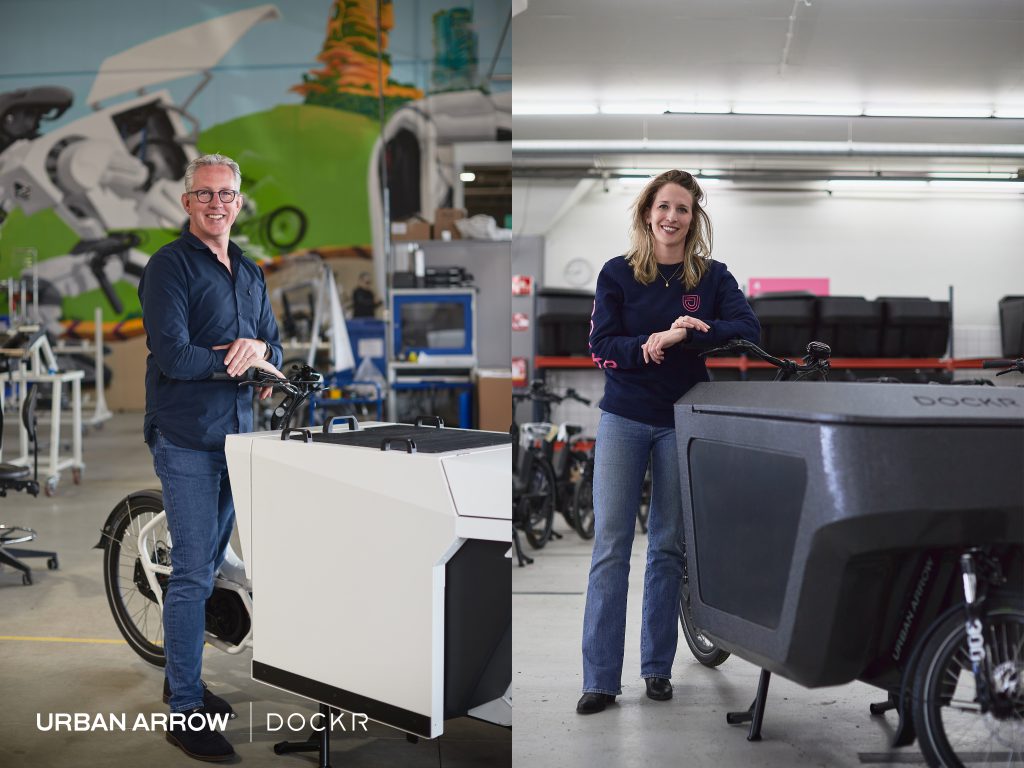 Cargo bike subscription
DOCKR successfully predicted in 2018 that the demand for electric cargo bikes would increase. The scale-up with a start-up mentality is playing an important role in opening up the business market for e-vehicles. At DOCKR, businesses choose a cargo bike that matches their logistical challenge and pay for it through a subscription. DOCKR offers an all-in service: the bike, the maintenance, the insurance, the graphics with a company logo, and even breakdown assistance. If you break down, they will come and rescue you and provide a replacement bike.

Quality bikes
The intention is that DOCKR's fleet can remain on the road for a long time. After all, the bikes do heavy work and must be usable by everyone. Nadine van der Hoorn, Managing Director at DOCKR, explains: "Our service needs to be good and flexible, which is why we only work with top quality vehicles. We have various cargo bikes, but for the two-wheelers we have opted for Urban Arrows. We fell in love with the bike straightaway. Urban Arrow is a trailblazer in the market, and the way in which they have entered into this adventure with us makes us real partners.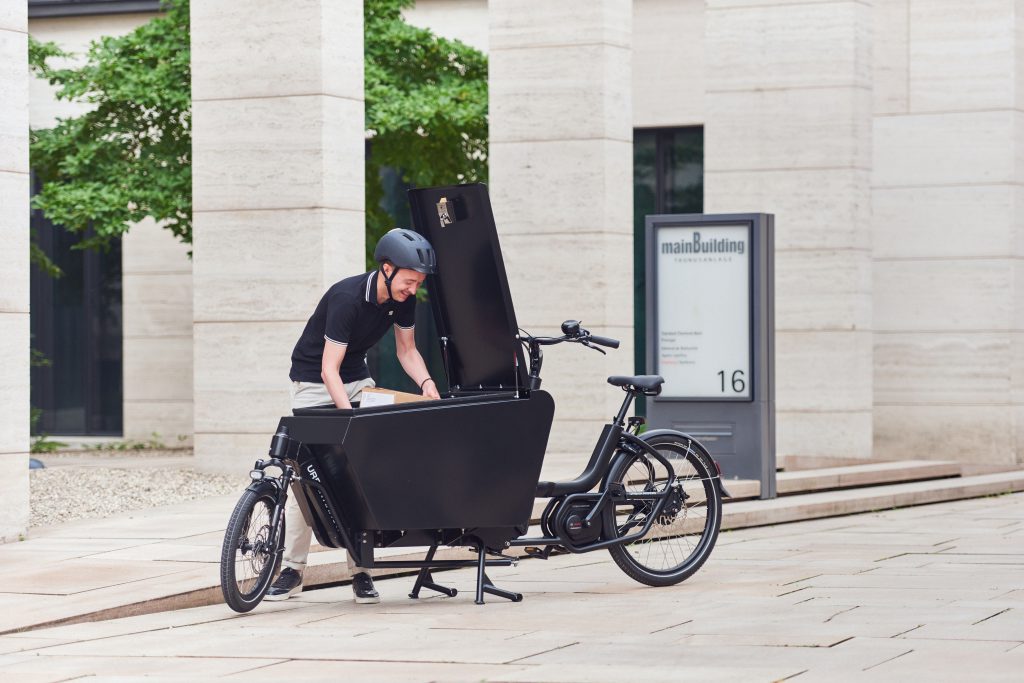 Accessible experience
Frank Oudegeest, director B2B at Urban Arrow, is also pleased with the collaboration: "With their subscription service, DOCKR are making cargo bikes available in an accessible way to companies that would not usually take that step – because they cannot raise the financing for a cargo bike, for example, or because they're not willing to make the purchase until they have experience with the bike. That makes DOCKR a useful addition to our extensive dealer network with which we reach another part of the business market."
Flexible use
Nadine believes that the accessible entry level is the key to the success of the DOCKR formula. "You can easily find out whether a cargo bike matches your company's logistical challenges. If it doesn't work, you just return it." That only happens rarely, incidentally. The churn at DOCKR is minimal. It's more common for customers to ask for a larger cargo bike after an initial period. "That swapping also makes our service so appealing – that flexibility," explains Nadine. Large companies with their own electric fleet are also using DOCKR's cargo bikes. "We see customers who use their own Urban Arrow bikes but who operate part of their fleet flexibly through DOCKR. They are consciously choosing to outsource their fleet management so that they as a business can focus on what they're good at. We are thereby serving a different part of the market than Urban Arrow does." DOCKR therefore offers a strong proposition for start-ups, businesses with an asset-light strategy, and large players who need to scale up rapidly.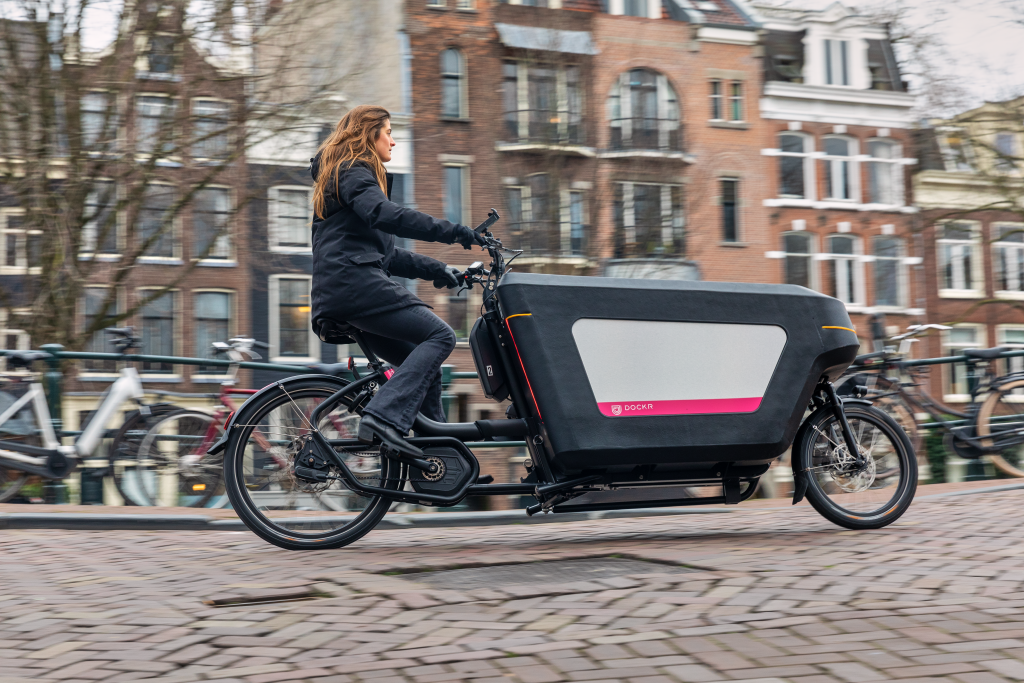 The bike of the future
Both Urban Arrow and DOCKR have the mission of preserving the quality of life in towns and cities. Both would like to see polluting delivery vans replaced with electric cargo bikes. And it's not just a shared mission that strengthens the collaboration. The two innovative Dutch companies also complement one another in another area: Urban Arrow is leading in technical terms for building the bike in the future, but DOCKR conducts the conversations with the end-user. With their service they have not only created a disruptive business, but also have access to information about the customer journey of the business cargo bike user. Between them, they have the knowledge to build the perfect bike of the future. Together they are driving change!